Why Hospital Systems Need More than a Mover for Large Healthcare Moving Projects
A new hospital or an addition to an existing facility is a highly anticipated, exciting event, heralded by members of the system and the community alike. As the opening date draws near, thoughts turn from planning to the move itself – the final piece in the project, but one that, for whatever reason, often receives far less attention than design, equipment planning, procurement, and other, earlier project phases.
However, likely due to current supply chain disruptions, labor shortages, and price increases, more and more of our clients are starting to see the value in investing in more than just a mover for their healthcare facilities projects: they are starting to understand the need for a move planning partner.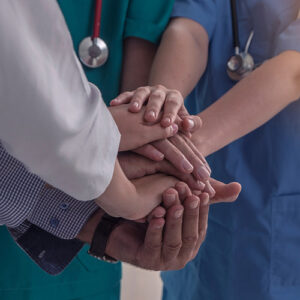 The Difference Between Move Services and Move Management
Knowing the distinction between "move management" and "move services" is an important first step in understanding the different service levels hospitals can expect at the final, critical phases of a project.
Move services include the physical relocation of items. The move services vendor may provide labor, transportation, moving supplies/equipment, and installation technicians. These services alone may be adequate for smaller projects.
Move planning and move management are collaborative processes that focus on strategic planning, organization, and onsite management of labor crews. Depending on the nature of the partner selected, move managers may have their own labor teams and equipment for the project, or, if the client prefers, they can help create an RFP for move services. By leveraging the move manager's expertise, either option should result in reduced cost and enhanced service quality for larger, more complex projects.
Benefits of Selecting a Move Management Partner
Among the many advantages of working with a move planner are the following:
Skillful coordination of move crews: Particularly given the current labor shortage, GWS finds that hospital moves require leadership beyond the assigned crew lead to execute a move safely and professionally. A move manager keeps the project on schedule, makes sure that all equipment is handled with care, and ultimately, justifies the client's investment through hard dollar savings on labor.
Comprehensive list of install/assembly items: Before the move, the equipment planner helps clients work through CFCI, OFCI, OFOI, and OFVI items. Given the heavy attention placed on equipment, it's all too easy to forget the details of other items that will need to be de-installed from their existing locations and re-installed in the new facility. Move planners ask questions including, but not limited to, the following: Will you be reusing any patient TVs? If so, who is responsible for remounting those brackets? More importantly, does your mover have that included in their proposal? Is your mover willing to cover that scope, or do you need to find another resource? A skilled move planner/move manager will create a clear and comprehensive plan for the move that considers every detail.
Risk mitigation: An experienced move manager anticipates challenges before they happen and puts a plan in place to minimize gaps and pitfalls. This benefit cannot be overstated, as patient readiness depends on it.
Potential for one partner – for the whole project: Some decision makers may object to the idea of hiring a move manager, simply because it is yet another vendor to manage – on top of their day-to-day jobs! Because GWS offers an end-to-end approach for our clients, our Team partners with them from equipment planning all the way through move management – and even through the move itself. As an affiliate of Planes Companies – a 100-year-old moving, transportation, and storage company – GWS works with the most experienced, professional moving and installation teams in the business.
Where are you in the
healthcare relocation process?