Final Mile Delivery: An Opportunity for Efficiency in Hospitality Moving Projects
Where does final mile delivery fit into the current supply chain situation?
It's not breaking news that the global supply chain has been disrupted. According to a recent study, an estimated 80 percent of organizations' supply chains have been negatively impacted during the COVID-19 pandemic, and nearly 70 percent of companies plan to change supply chain management strategy "significantly" as a result. Additionally, the AHLA reports that nearly 75 percent of hotel operators' business revenue is negatively impacted by supply chain disruptions.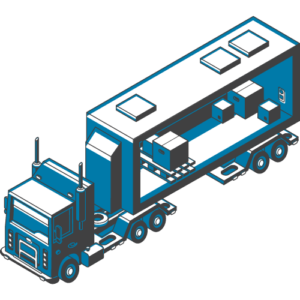 While disruptions have left no industry untouched, for the hospitality industry, where every day delayed leads to massive potential losses in revenue, efficiency and quality control play an essential role in project success. An opportunity exists to evaluate current strategy and optimize the approach to FF&E management by focusing on the area of greatest potential impact: final mile.
Most hospitality companies have little to no control over the initial links in the supply chain; however, the final segment – often known as final mile delivery, which is where goods move from a warehouse or transportation hub to their final destinations – is an area where organizations can generate meaningful efficiencies in terms of both time and cost. Here's why:
Final mile logistics is much more than just delivery: Prior to assets being loaded on the truck – be it a straight truck or 53' tractor trailer – to their destination, goods are received and stored until they are ready for delivery to site. After delivery, if a full-service partner is utilized, they will unpack, set-up, install, and remove debris. This extra level of attention paid in the final mile (sometimes called the "white glove services" component of final mile delivery) ensures that your brand standards are met.
A skilled partner for final mile delivery services can uncover potential risks: Assuming companies have visibility to product delivery at this final stage, partners can help identify product damages and delays, proactively mitigating financial exposure.
The Importance of Having a Final Mile Delivery Partner
Given the current environment, the role of a true partner – instead of just a provider – is more important than ever. In order to adapt to current challenges and accelerate time-to-site, GWS recommends that hospitality companies consider prioritizing their approach to final mile, with priority placed on the following:
Communication and end-to-end tracking: Strong project managers who can connect each end of the supply chain are invaluable to project success. As part of our approach, our Team reviews inventory lists from procurement and marries them with construction plans to build sequencing of inventory to site. This results in a system of checks and balances for the client to make sure there are no anomalies or gaps in scope, while also uncovering potential shortages of product not ordered. Additionally, just in time (JIT) deliveries play a key role in the final mile mobility plan by preventing excess product on the job site, thus reducing the risk of product shrinkage, damage, or misplacement. By planning proactively, a clear path to success is created early on in the process, minimizing potential risk of lost time and money at the final stages of the project.
Visibility and velocity of real-time information: Technology plays a critical role in both information visibility and velocity; yet, according to GEODIS, nearly 80 percent of companies claim they have "limited visibility" to data. A flexible, connective solution, such as GWS' LINKTM technology, is essential to transform real-time data into actionable next steps. By connecting people to information – regardless of project phase or location – in one centralized space, decision-makers have confidence in project status.
Responsiveness to quickly act on insights uncovered by data: While the right technology platform can empower stakeholders to make solid decisions, when it comes to strengthening process, the role of a strong team of experts cannot be overstated. In addition to professional project managers, a strong network of partners who share the same sense of urgency for project success gives clients reassurance that their entire project portfolio will be managed with consistent quality service, regardless of location. GWS' nationwide network of service centers, who are selected specifically for their expertise in a given industry (be it hospitality, healthcare, or commercial), ensures that data-driven decisions are deployed with consistency.
GWS combines our team of experts with custom technology to help maintain business continuity in times of change. Our clients trust GWS for projects ranging from simple work orders to complex projects for corporate, healthcare, and multi-site locations. We know what it takes to exceed your expectations, and you can trust that GWS will deliver innovation, flexibility, cost savings, and – most importantly – satisfied clients.
Where are you in the
relocation process?