A 2021 Maintenance Trends Study found that 90 percent of participants choose to outsource building maintenance services. Reasons for outsourcing such facility services change from year to year. While cost is often a factor, the one consistent reason for such outsourcing has to do with ensuring the best possible value when it comes to facility management services.
Though perhaps not the most exciting of topics, savvy business administrators are now focusing more and more on the importance of building maintenance services.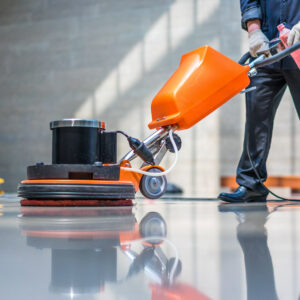 What facility services are commonly outsourced?
While needs vary from company to company, the following are some of the most commonly outsourced facility maintenance tasks:
Cleaning & janitorial services
Grounds maintenance
Plumbing & electrical
Painting
Renovation & restoration
Five Benefits of outsourcing building maintenance services
These days, first impressions are everything. Superficial or not, there's no getting around the fact that as soon as a client, staff member, or business associate enters your facility, he or she immediately begins to form an opinion of your brand. This is why businesses that wish to keep up with current trends will seek out a company that offers optimal facility maintenance services.
Outsourcing facility management services allow for:
Increased focus on core business: By partnering with a company with experience in building maintenance and facility services, organizations can invest more time, energy, and resources into their central business mission and goals.
Increased quality & efficiency: Due to this specialized expertise, companies can expect the most efficient performance when they partner with expert providers of facility maintenance services.
Staffing flexibility: An expert building maintenance provider offers companies the confidence and flexibility to address their ever-changing needs.
Valuable insights: The ideal facility services specialist should be able to provide insights into budgeting and strategy concerns that may prove to be vital for partnering companies.
Better onsite experience: Especially for those with in-person customer facility needs, such as a retail storefront, a company with notable branding power can rest easy knowing their reputation for a safe, clean, and accessible in-store experience for customers and staff members alike will remain consistently solid.
What should companies look for in an expert building maintenance partner?
Finding a partner with the ability to deliver on all five benefits listed above might seem daunting. Here are three basic qualifications that an outsourced facility maintenance services partner should be able to offer:
Established market reputation: Ask for references and case studies from your potential partner organization. These credentials help ensure that a partner has successfully performed work in the fashion your company requires.
Flexible and versatile strategies: The ideal partner will adapt and evolve with your company as your building maintenance needs change. Particularly for companies with a large real estate portfolio, there is great value in working with a partner who can boast national branding power, the ability to scale up or down, and the means to react quickly to client needs.
Financial stability: Your ultimate goal here should be that of finding a long-term partner who will continually bring value and consistency to the table. Working with a financially stable partner brings peace of mind that the relationship itself will be stable and grow.
How GWS can help with building maintenance and facility management:
GWS facility services are tailor-made to help solve facility management challenges faced by our partner clients. As a financially robust company with a national footprint and expertise in program development, we provide consistency and versatility to clients. Depending on client needs, GWS can leverage its proprietary technology platform, LINKTM, to connect to customers' operating platforms via an API. This seamless connectivity allows us to efficiently report our job progress to clients – and constantly refine our own approach, as well. We partner with a variety of clients to provide maintenance services to their real estate portfolios, including one of the world's largest, most well-known retailers.
Contact us to learn more about how GWS can partner with you to create a custom maintenance services program.